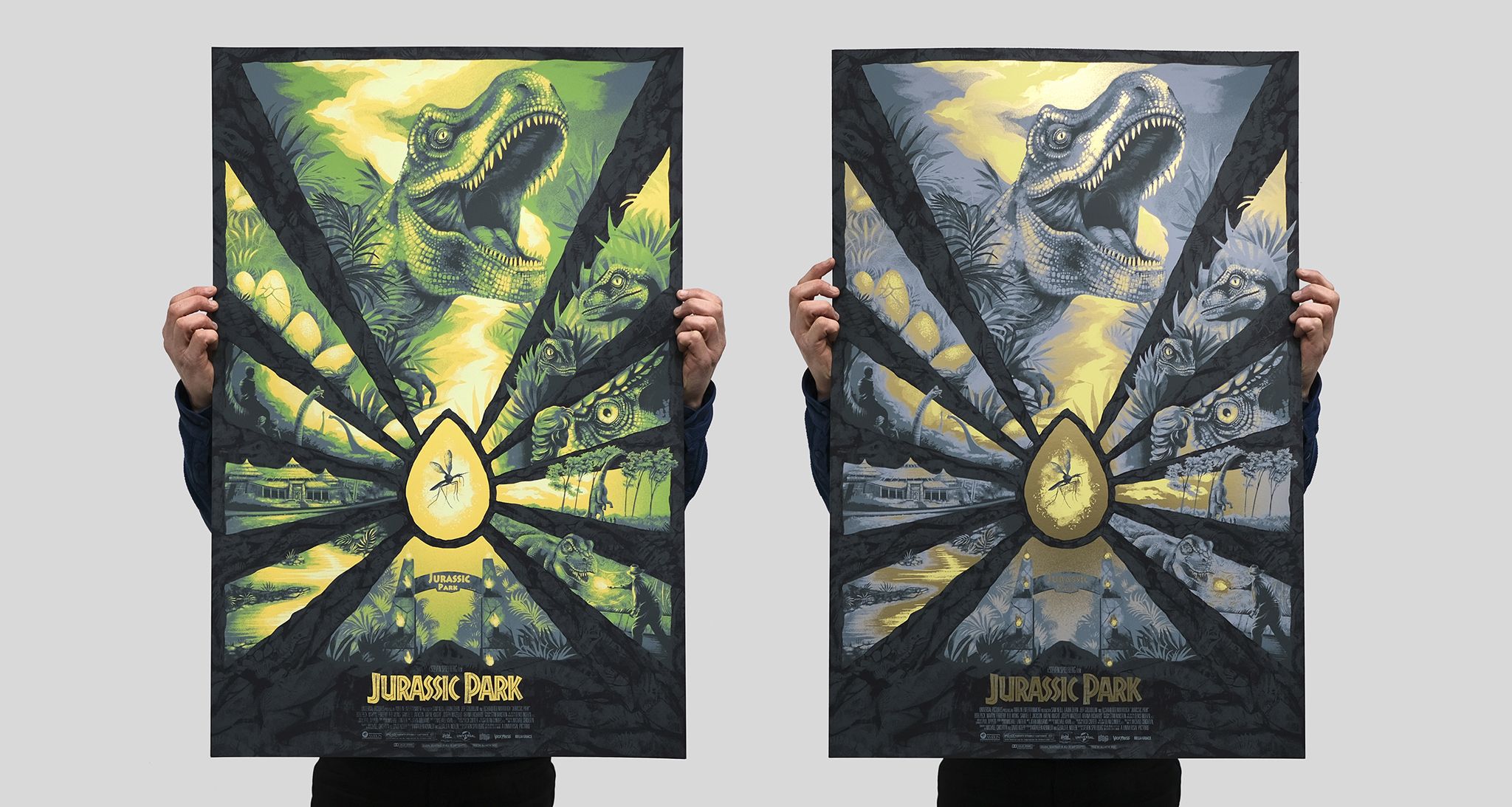 Jurassic Park by Bella Grace.
Bella Grace has created a superb Jurassic Park poster for Vice Press, which explores the classic Spielberg film via a series of iconic scenes and locations. Naturally, T-rex holds dominion, but what would a great Jurassic Park poster be without her snarling involvement?
Jurassic Park by Bella Grace is a new officially licensed poster, commissioned and released by Vice Press in the UK.

It's a superb illustration from poster artist Bella Grace, with a fantastic concept at its heart. The poster gives plenty of stage presence to ol' T-rex, but her menacing presence is supported below by a wonderful concertina of memorable scenes and locations from this cinema classic.

I'm sure Bella won't mind us borrowing her words on the creation of this poster:
"The composition is inspired by the visitor centre entrance door, using this as the frame to capture the movie's most iconic moments in each segment. The mosquito in amber, also shaped like a dinosaur egg, is at the core where it all started."

The regular edition was designed to work on a yellow stock, for which we used a premium cover paper from Fedrigoni in Italy; and the variant was destined for a gold foil, where we settled on a matte gold foil from Mirri in the UK.  

A really wonderful pair of posters, and a fine new edition to the burgeoning canon of Jurassic Park alternative poster art.

Jurassic Park was screen printed at White Duck Editions, in a 5 col, 24"x36" regular edition of 150+AP's on 285gsm Woodstock Giallo paper & variant edition of 75+AP's on 275gsm Matte Gold Mirri Foil.

Join the newsletter to receive the latest updates in your inbox.