Lake Shore Drive II (Night) by Murugiah
The vividly colourful mind of Murugiah has been a fascinating place for us to visit. We have journeyed through some far reach, via this new print edition.
Lake Shore Drive II (night) is a new art print by Murugiah.
This is the first time that we've worked with Murugiah, who is a multi-disciplined artist working out of London, and who has a wonderful eye for the brilliantly bright and the devilishly surreal. It takes an artistic courage to work with such bold colour palettes as these, coercing a cohesive beauty from them, and it's in these vivid mind-scape spectrums that Murugiah's talented voice is found, singing loud.
An important early step in the discussion with an artist, when considering their work for print, is to decide on the medium that will create the most worthwhile edition. And while the solution is not always screen print, and can oftentimes be digital, Murugiah's Lake Shore Drive II provided a wonderful opportunity to combine the virtues of both giclée and screen print.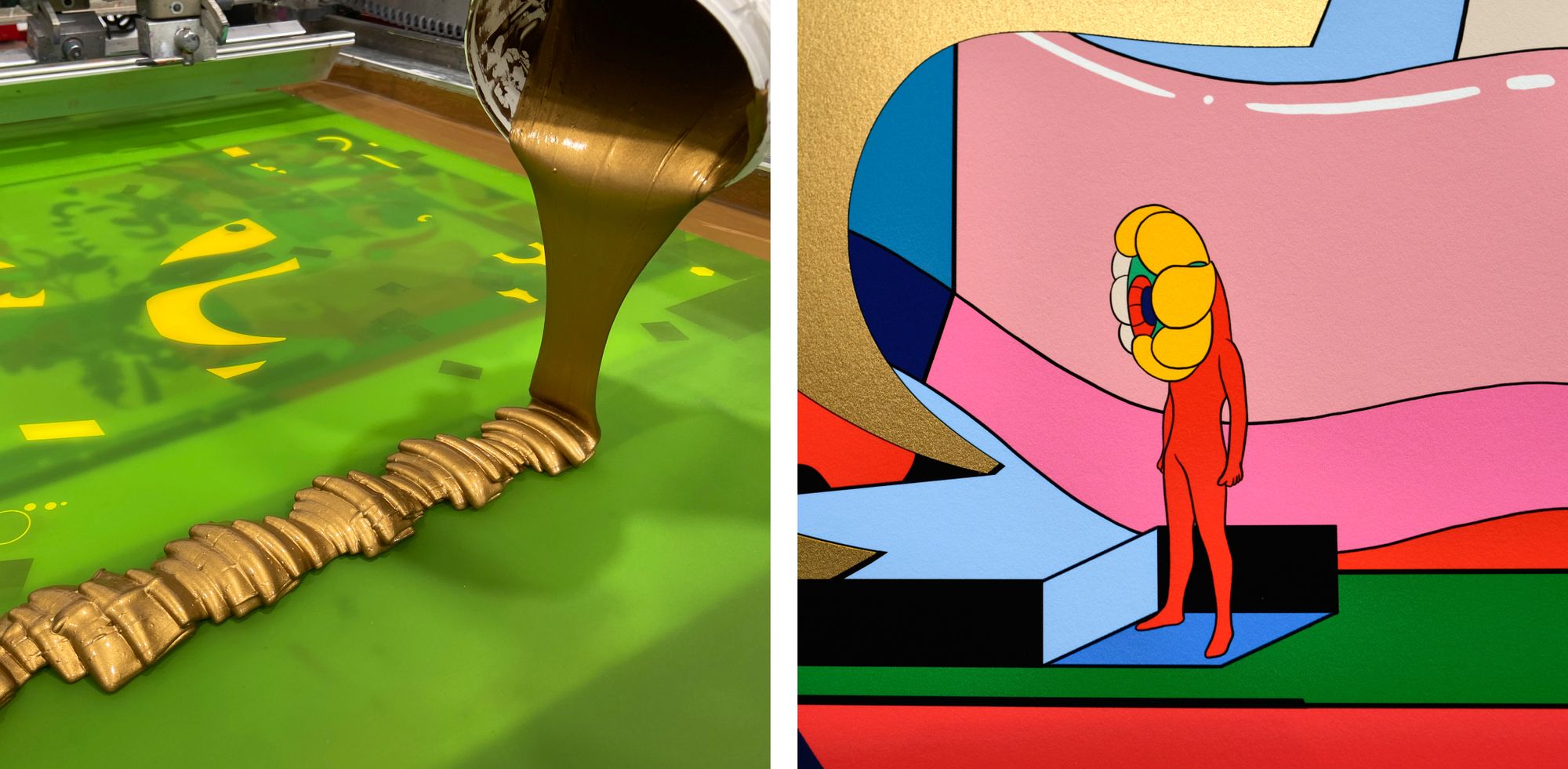 Murugiah was looking for a tactile metallic gold to be included in his new print, which is where a digital giclée print would flounder, but this is one area where screen print can really do its thing.
The outcome for Lake Shore Drive II (Night) was a beautifully saturated giclée print on 300gsm cotton paper, with screen printed metallic gold embellishment, using Lascaux high-metallic-pigment ink.
The process to create such a print begins, in this case, with creating a colour-balanced proof of the artwork, and complimenting it with a couple of metallic gold swatches in differing hues. These we sent to the client, to acquire sign off on the edition colour balance and a decision on which gold to use for the screen print element.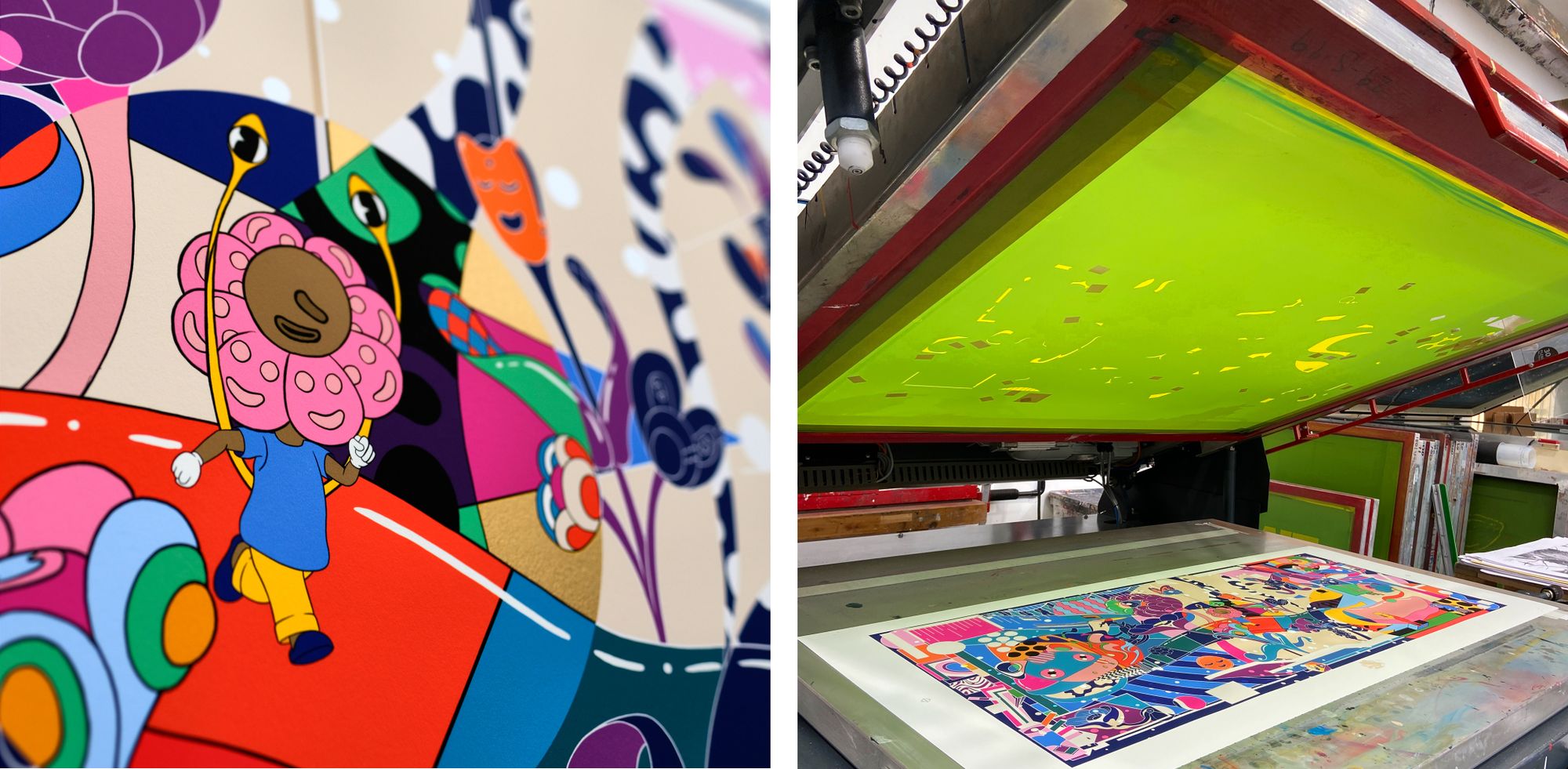 We then produce the giclée prints, in the full edition plus sufficient run-ins for the screen print process. These prints spend time in the studio atmosphere to acclimatise and take their final shape. This paper has been printed straight from a roll, and so by 'take their final shape' we mean that the individual prints are prone to expansion or contraction, depending upon the humidity and temperature in the studio. With screen print, we have the relative luxury of pre-racking the paper prior to print, to give it stability before editioning commences. With giclée prints that have screen print embellishment, the acclimatisation has to happen afterwards.
For this reason, a unique process is produced, whereby the silk-screen artwork films invariably require size adjustments, for the screen printed element to fit the settled giclée prints. This process is conducted, the silk-screen is made, and then the metallic gold embellishment is screen printed in much the same way as any one layer of a screen print edition : on our Kippax 40/30 press.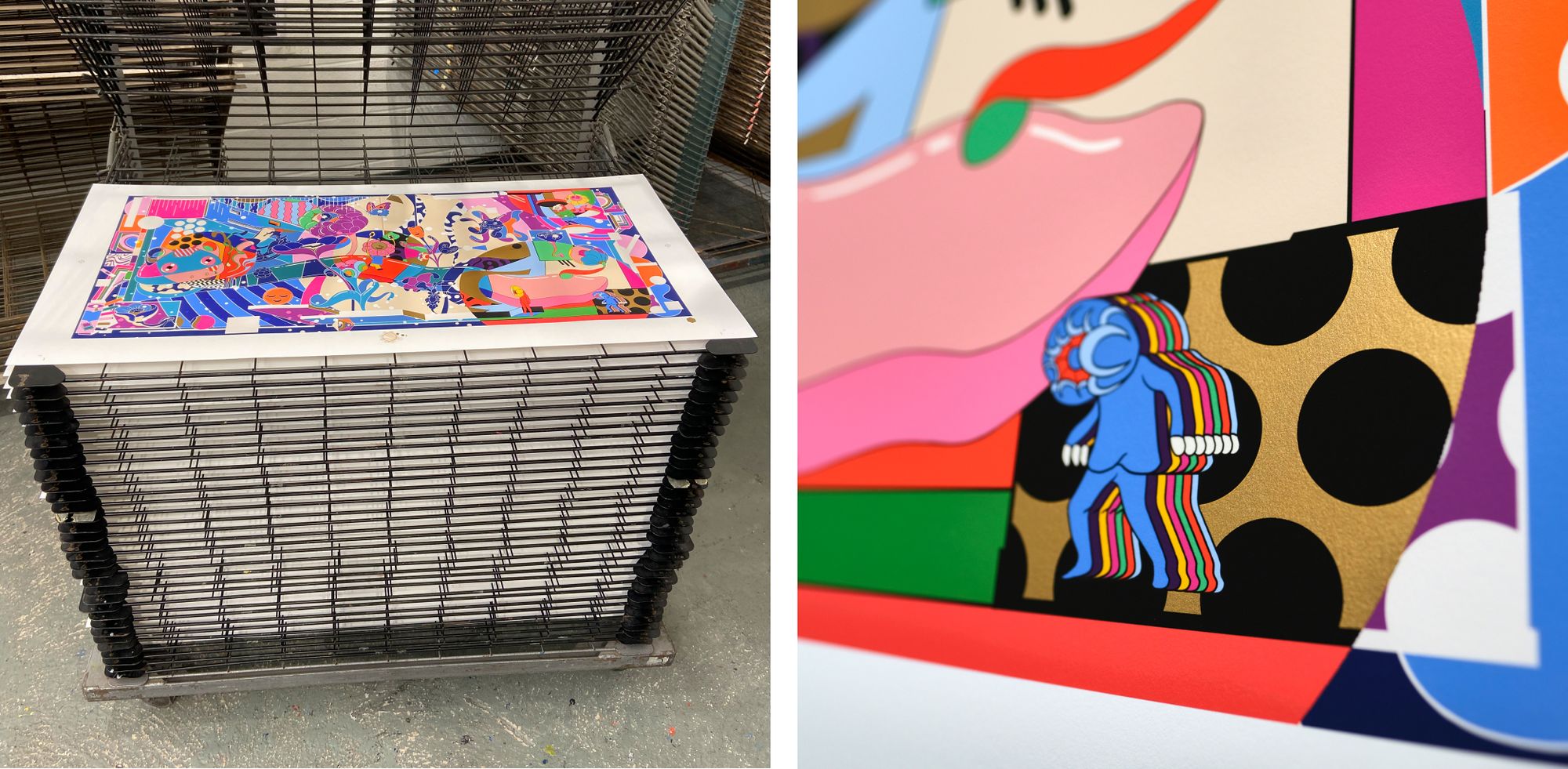 All in all, it's a highly involved production process, with a great deal of handling by the printers. The finished print speaks of this — the labour is visible in the tactile and shimmering finish of the metallic screen printed ink, where it catches the light and contrasts against the vibrant, matte colours underneath.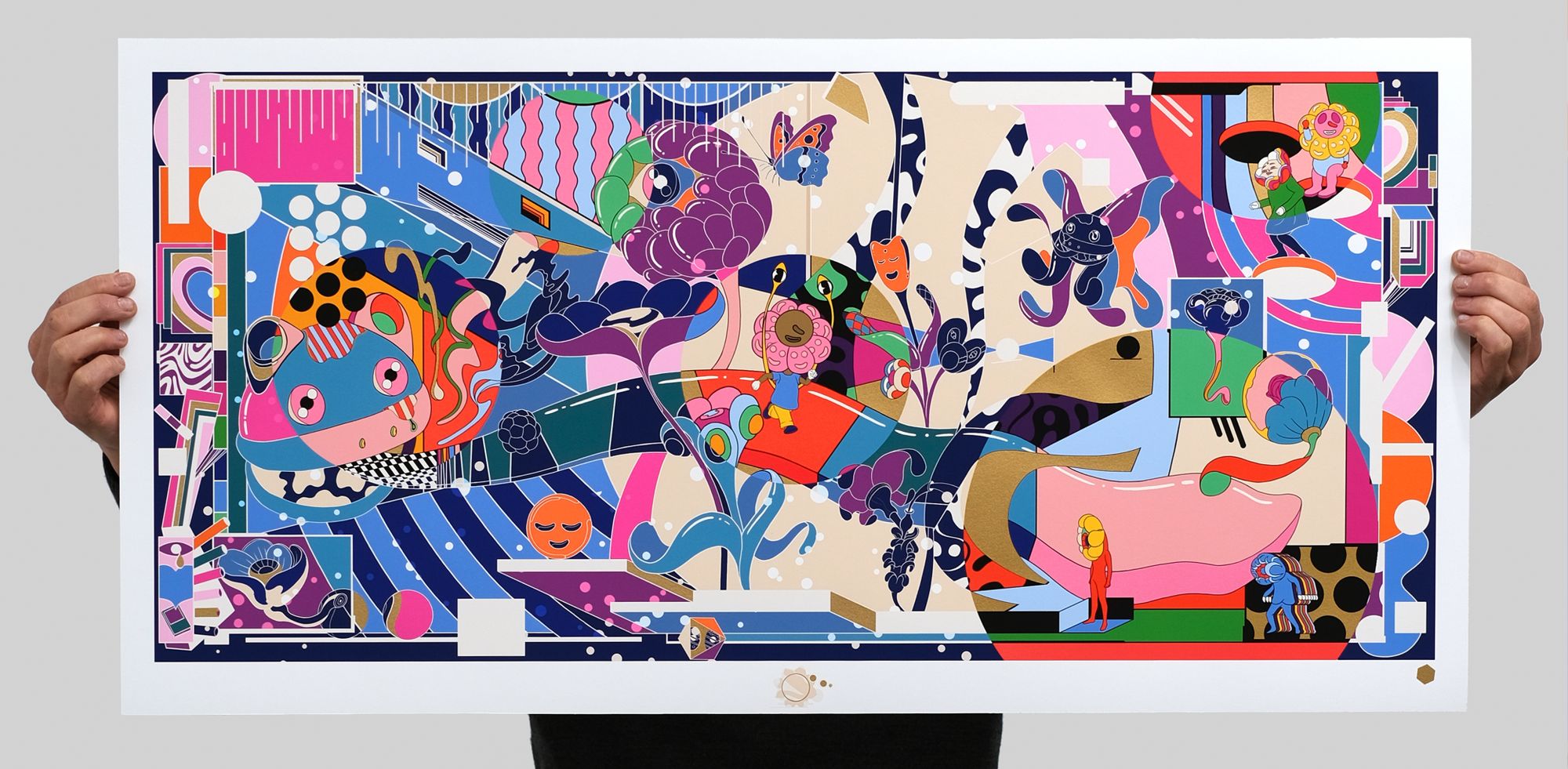 Lake Shore Drive II (Night) was printed at the White Duck Editions studio in a 40"x20" edition of 50, giclée on 300gsm 100% cotton paper with screen printed gold embellishment.
The artist will be releasing this edition at some point this spring/summer, so keep on eye on his (frankly, captivating) socials for news of exactly when.
A final thank you to Murugiah, for approaching Rebecca and myself to work on this print. It's been a great pleasure, and we're looking forward to working with the artist again.
Join the newsletter to receive the latest updates in your inbox.