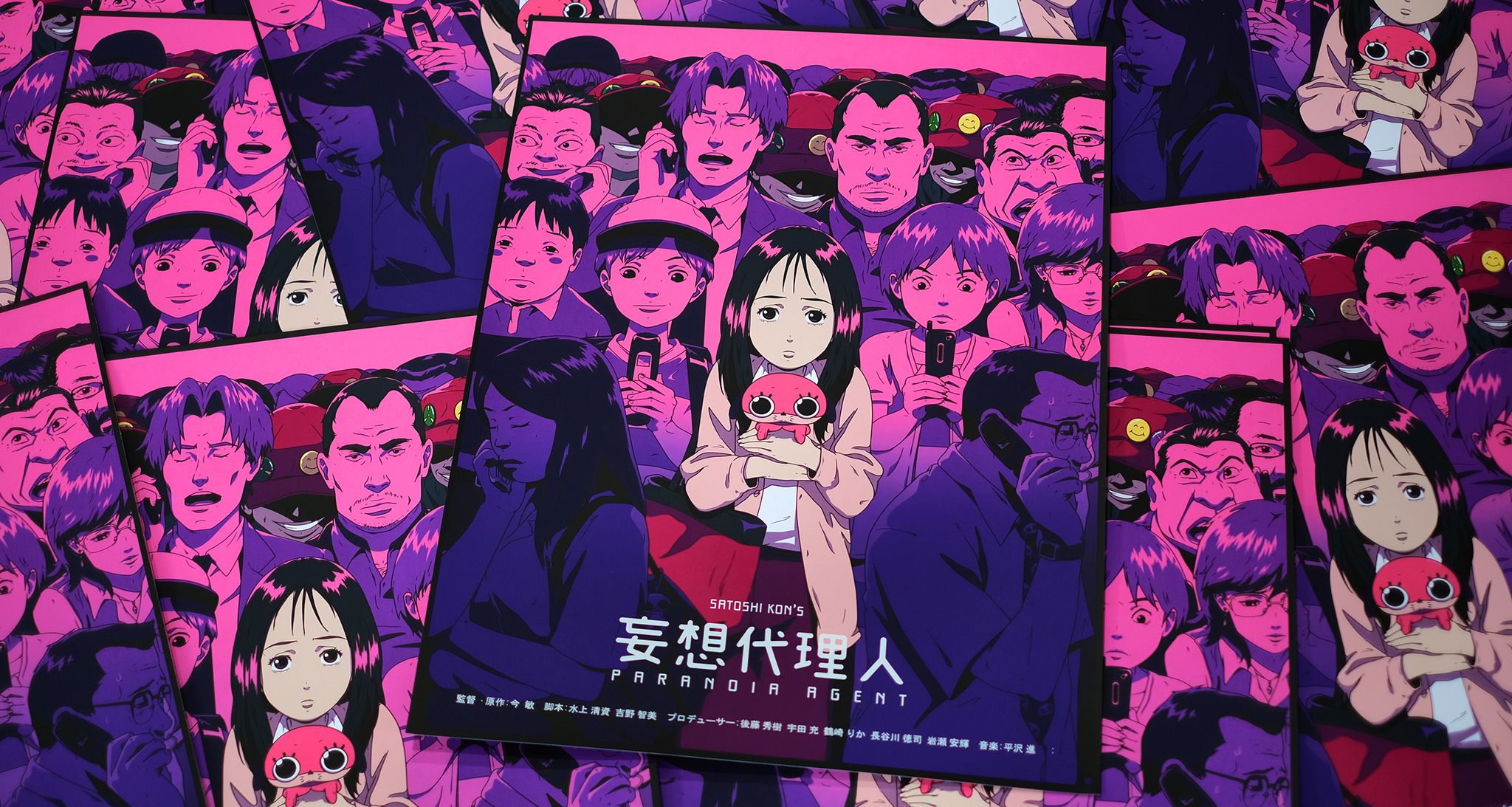 Paranoia Agent by Ethan Sharp.
Ethan Sharp set the bar high with his posters for Perfect Blue and Metropolis. With his third release, Paranoia Agent, that trend continues, as he deliveries arguably his most ambitious and complex screenprint yet.
Paranoia Agent is the new screenprint edition by Ethan Sharp.
Back in April, we had the pleasure of showing you Ethan's excellent Metropolis print, fresh off the White Duck Editions press. At the time of completing that edition, we asked Ethan what his next project would be, and he dropped some hints that it may be Satoshi Kon related.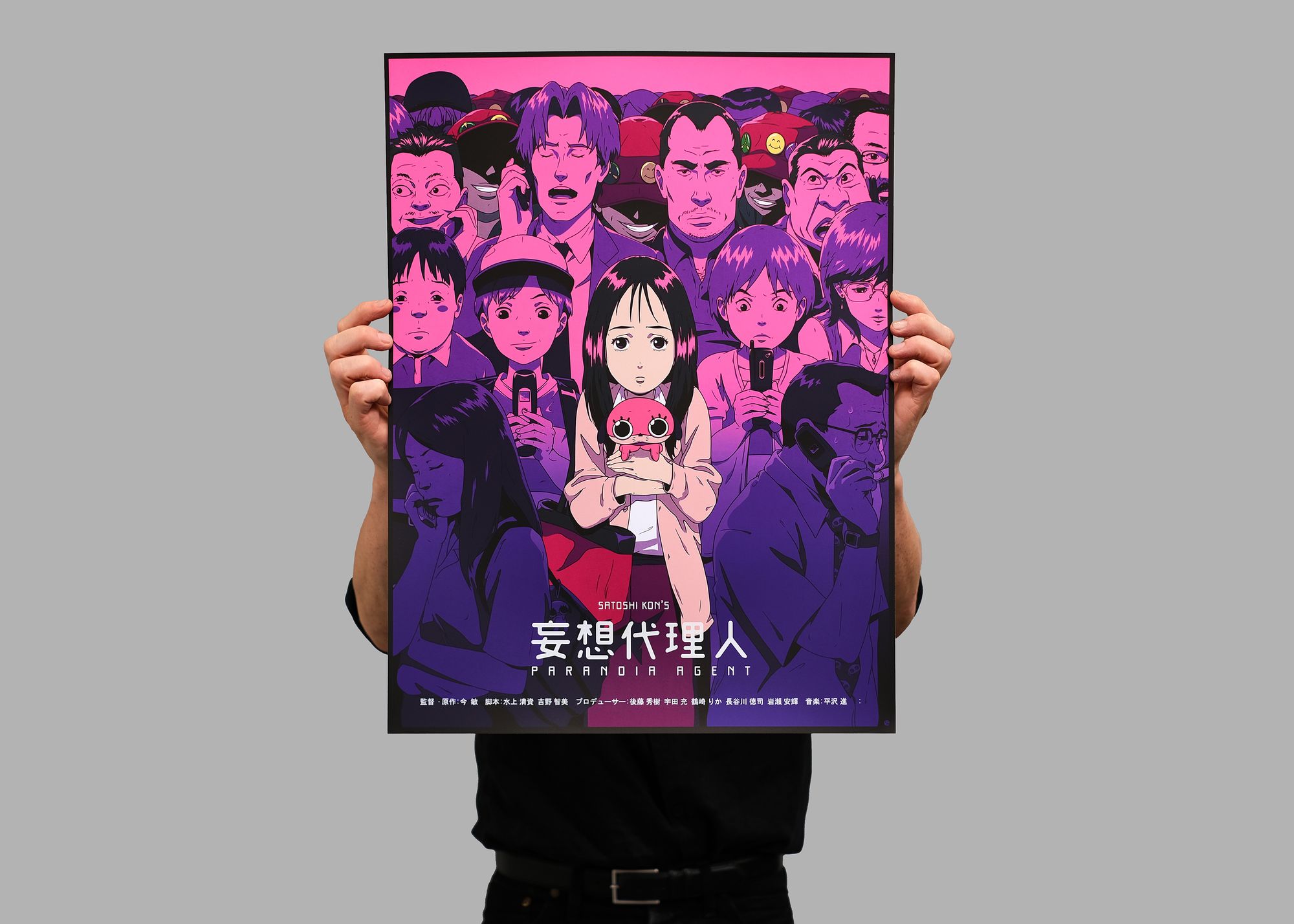 Considering the quality of Ethan's previous poster artworks — for Perfect Blue and Metropolis, both printed here at White Duck — we waited with a rising sense of anticipation. So did the myriad fans of Ethan's work.
Cue Paranoia Agent — Ethan's ode to the anime TV series that came along after Satoshi Kon created Perfect Blue, Millennium Actress, and Tokyo Godfathers. The TV series acted as a still for all Kon's unused ideas. A place for him to experiment with the dynamics of storytelling.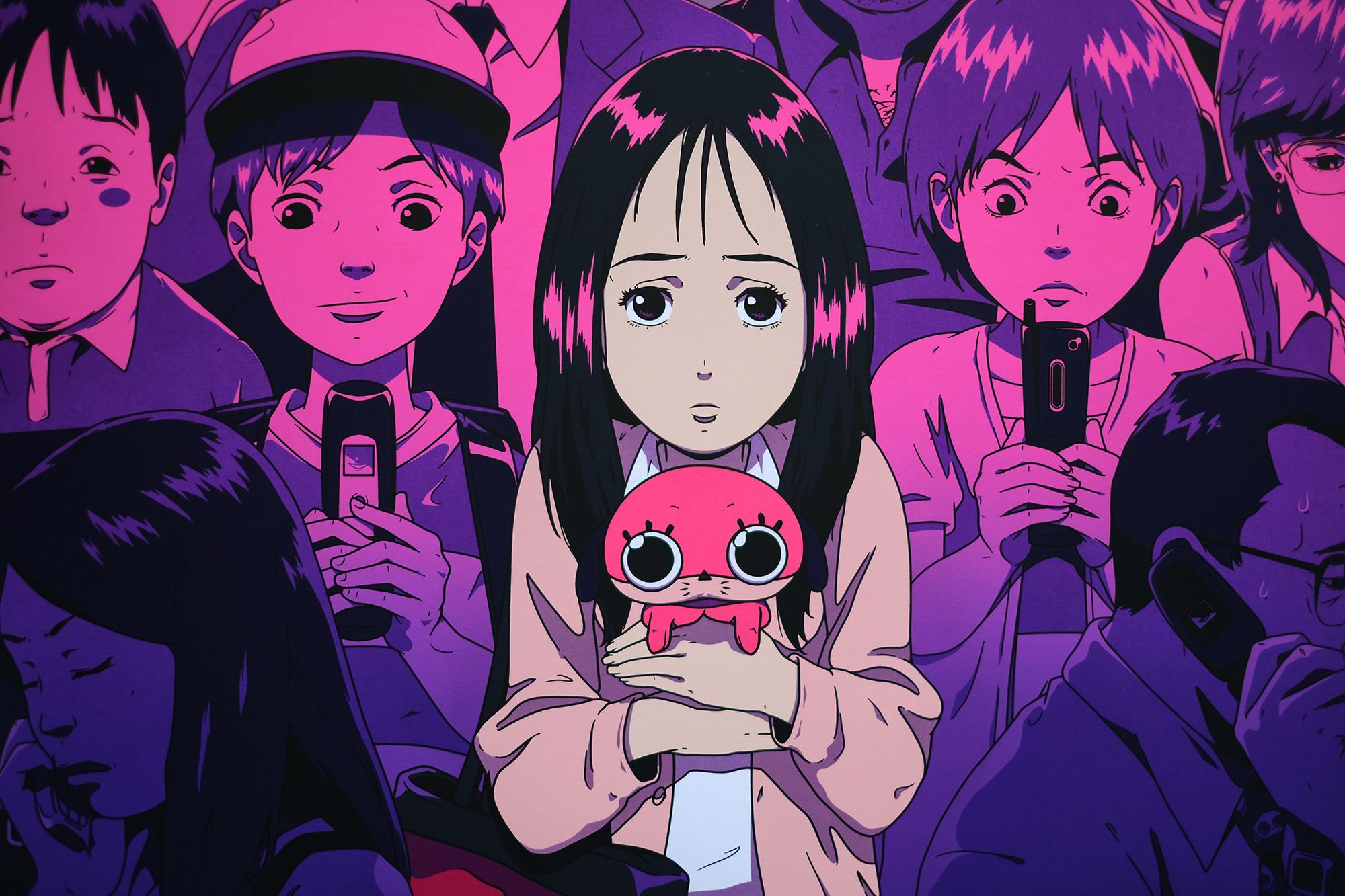 Not only is Paranoia Agent the third print of Ethan's we've worked on, but it is also in many ways his most ambitious and complex. The screenprint is constructed in 12 layers, with 13 colours in total, two of which comprise a split-fountain* in the background.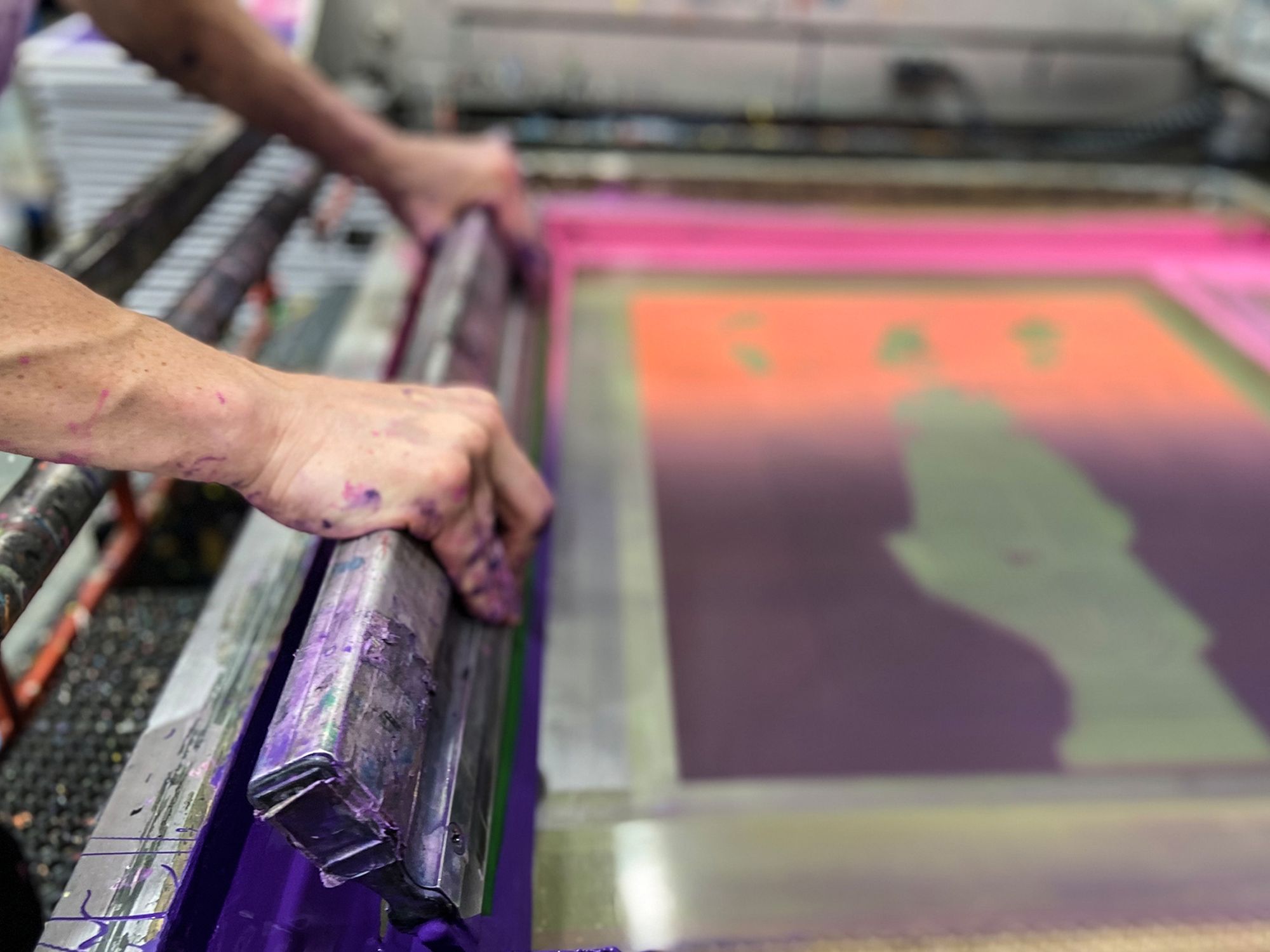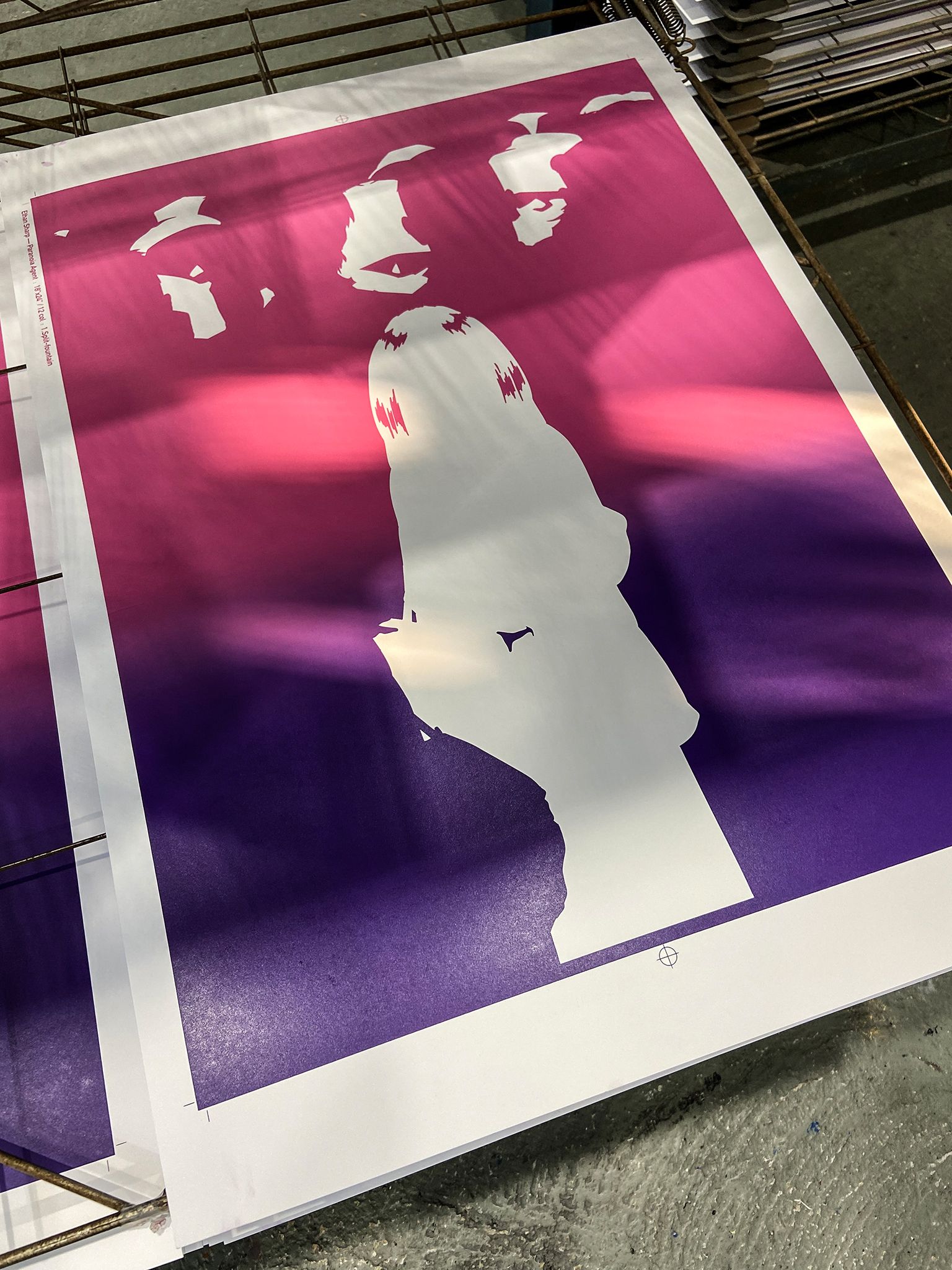 A number of key spot colours compose the majority of the rest of the image, some essential in distinguishing the appearance of recognisable characters from the show, and then the layering is given a wash of dynamic depth by the overlaying of two translucent shadows.
The standard procedure with a print of this nature is to create the entire colour palette of inks ahead of running the edition. When complex translucencies are involved, there are simply too many possible variables for one to run headlong into the work. What looks great in Photoshop doesn't always translate to what is possible in print.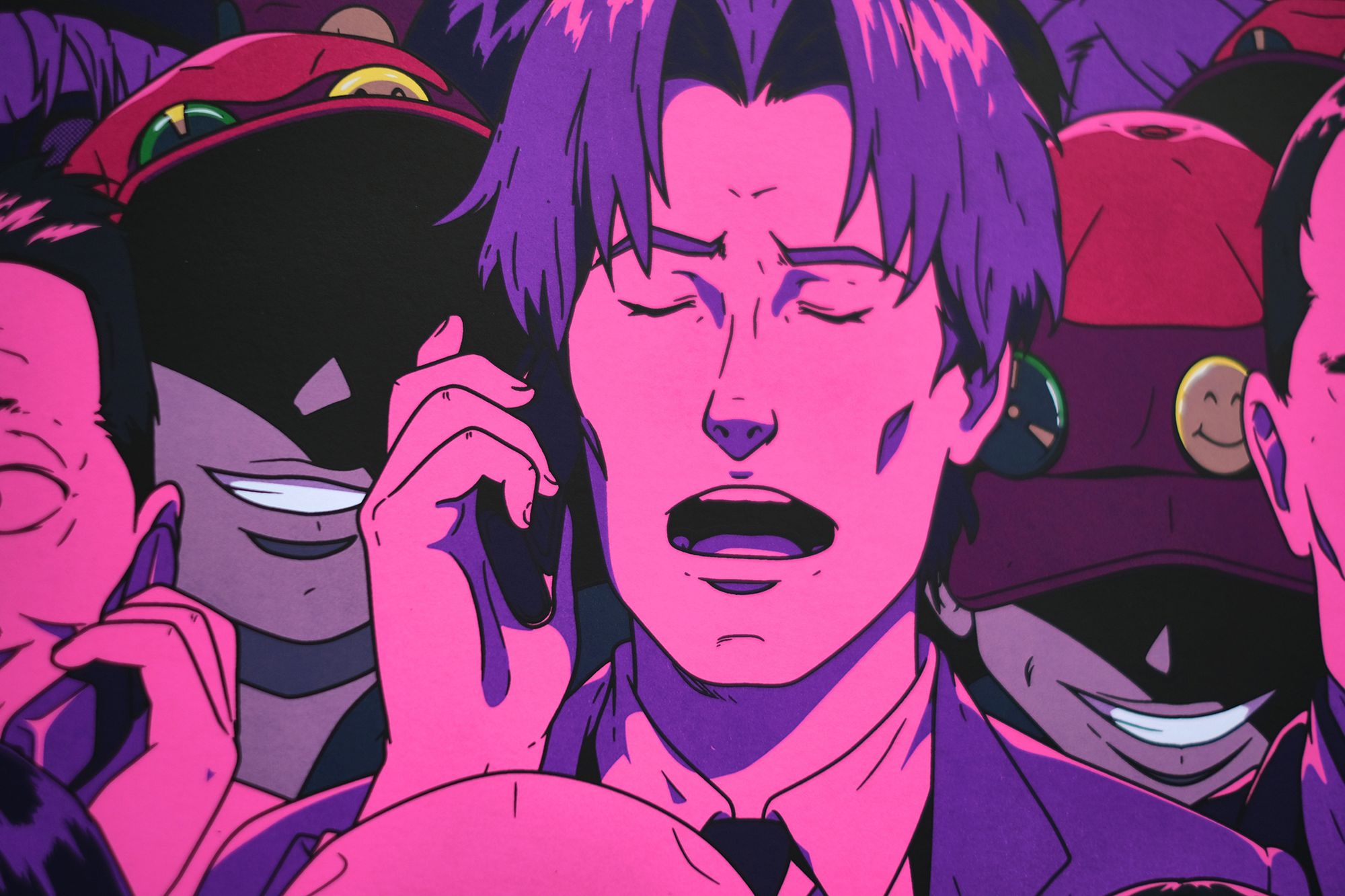 In the case of Paranoia Agent, and when running swatches for Ethan, it soon became apparent that a single translucent shadow wasn't going to create every necessary overlapping value — not zappy enough over the dark tones / too zappy over the light — and so we discussed with the artist the possibility of splitting the layer in two, giving us both light and dark shadows to play with.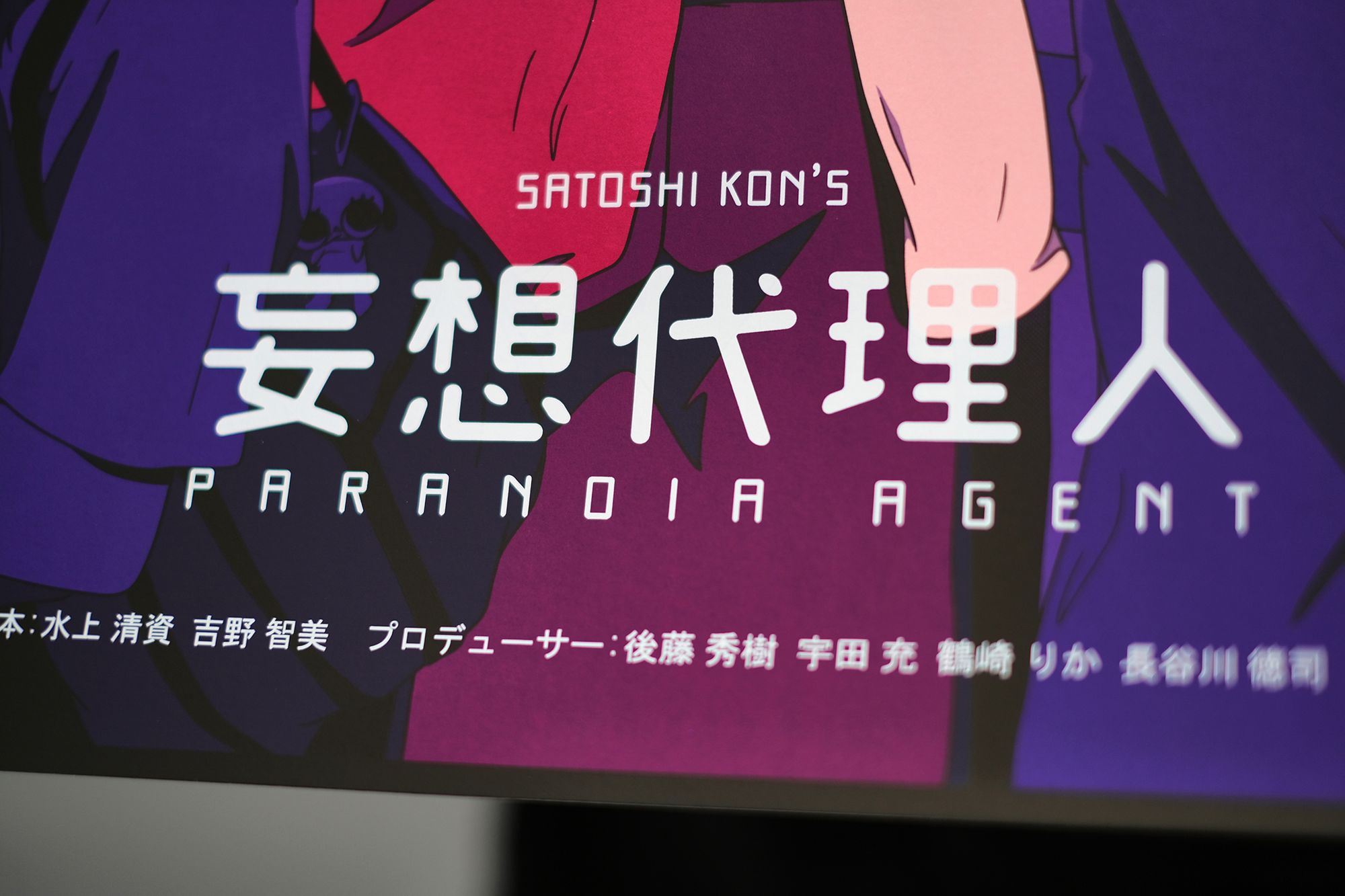 Add to this two-fold dynamism the beautiful natural fade of the split-fountain, and the result is a highly nuanced screenprint, full of tone, depth, and highly pigmented colour. A superb next print in the artist's ongoing series of anime posters.
Paranoia Agent is available direct from the artist and went on sale TODAY. Visit Ethan's online shop for full release details and availability.
Edition details:
Poster: Paranoia Agent by Ethan Sharp
Size: 18"x24"Colours: 12, including split-fountain
Paper: 300gsm Gmund Bauhaus
Edition: 160 + 40 AP's
Screenprinted with love at White Duck Editions
💡
*In case you were wondering what a split-fountain is, it's when two or more inks are printed through the same silkscreen, giving a subtle fade where they interact.
Join the newsletter to receive the latest updates in your inbox.